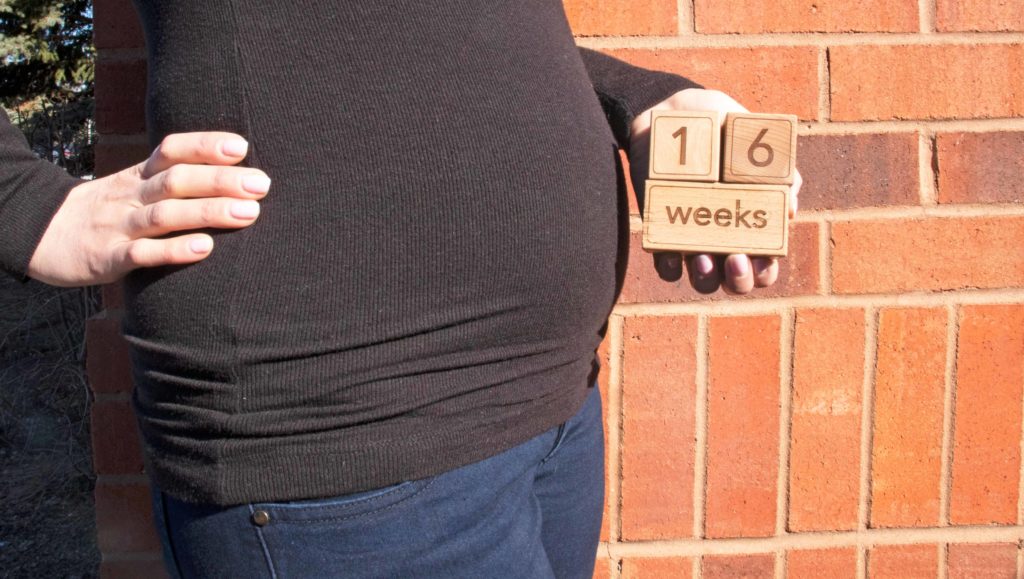 This January I was honoured and excited to take on the role of President of Kidcentral. This Fall, I will also be growing into a new role: Mom! My husband and I are expecting our first child this September.
Over the years, being with Kidcentral has given me a wealth of knowledge about the baby industry, but I had never experienced the needs and wants of the prospective "mom to be" first hand. Now, as I look forward to the arrival of my own little one, I'd like to share with you the new perspective I've gained! Follow along with me on this blog feature, The Bumpdate, as I take on the joys and hardships of pregnancy and motherhood.
–Daniela (the Pregnant President)
Trying to Get Pregnant
I always knew I wanted to be a mom. As the oldest of three girls, I naturally fell into the role of the second mother – a role I think a lot of eldest siblings can relate to! As I grew into adulthood, I put myself on a path where motherhood was surely soon to be the inevitable outcome. But, as they tend to do, the best laid plans can quickly become derailed, and the future I envisioned for myself was suddenly no longer an option.
As someone who is an avid planner, I needed to start working on a new plan, and began to carve out and follow a new path. I dedicated myself to work, and to the industry I believe so much in. I helped my company grow and prosper and grew into a leadership role that will always be one of my proudest accomplishments. I wasn't willing to settle for anything less than what I knew I deserved, but motherhood was always in the back of my mind. For women, there is so much pressure to be engaged, married, and expecting by a certain age. In a society where most women understandably want to establish themselves in their career before having children, but where 35 is considered biologically an advanced maternal age, the pressure and the anxiety about not being able to have children is seemingly higher than ever. While I knew I wanted children, and I felt the pressure of time, I also knew I wanted to be a mother and a wife. I wanted to journey through parenthood alongside someone who shared my values and my goals – someone who I could share not only the joys and heartaches of having children but share my whole life with as well.
Then, one day, it happened – I met a man who I could see that future with. We met, we fell in love, and we got married. We both wanted to start a family right away, and motherhood felt imminently inevitable. But once again, best laid plans sometimes divert into new paths that you don't anticipate. While it's estimated that in Canada almost 1 in 6 couples are affected by infertility, like most things in life, you don't expect it to affect you. We are taught to believe if you work hard enough, and do all the right things, you can control what happens to you – you can carve out your path on your own. Before we married, I started seeking advice from my doctor, and did all the prescribed suggestions to ready my body for pregnancy – I took all the right vitamins and even downloaded an app to track my cycle to ensure that once we were ready to try to get pregnant, the conditions would be optimal. But while carving your own path and controlling your own destiny does often lead to success, life will still always have a way of throwing you unforeseen circumstances.
Being in the industry while trying to get pregnant was a blessing and a curse. On one hand, I had access to a wealth of information and could seek the guidance of experienced mothers, and I could also commiserate with a supportive community of other women who knew what I was going through. On the other hand, I'm surrounded by images and conversations about babies all day long – I literally had babies on the brain 24/7. There was no escape personally or professionally and the weight of the pressure only grew over time. Every time my cycle was late, my hopes would rise, only to be dashed when it belatedly showed up. Every pregnancy test that turned negative after the longest 2 minutes would cut that much deeper. Each month when it would be made clear I wasn't pregnant, my spirits dimmed, and our optimism started to fade. The holidays were approaching, and I got to the point where I couldn't keep planning, tracking, and quite frankly, obsessing over my cycle. I decided to let go, relax, and put it out of my mind while we celebrated the holiday season. We relaxed, spent time with family, and enjoyed time off from work.
Even though I stopped tracking, I was still aware of when to expect my period. Because I had been late and then eventually let down before, I didn't want to get my hopes up, and delayed taking a pregnancy test to avoid disappointment. Then one morning, at about a week late, I decided to take the test, so I could move on – my brief break from tracking and following every rule was over, and I was gearing myself up to start again. I slipped into the bathroom, while my husband was still sleeping and took the test, positive that it was going to be negative – again.
But when I looked down, instantly both the test and I knew that my life was about to change.
I am pregnant.
–Daniela