PRESS RELEASE – JANUARY 2019
Robeez finds a familiar home with Kidcentral Supply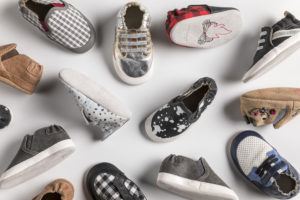 Robeez, one of the world's leading manufacturers of children's footwear, socks, and apparel, has announced that effective January 2019, Kidcentral Supply will be their Canadian distributor. The new partnership is built on longstanding roots – Kidcentral founder and CEO, Tammy Zilberberg started her career as a sales representative for Robeez in 2000.
"We are excited to welcome Robeez back to the family", says Founder and CEO of Kidcentral Supply, Tammy Zilberberg. "In sales, they say you are lucky to get a golden chip once in your lifetime. With hard work and perseverance, that chip can come back to you. We feel so fortunate to have this opportunity again."
Established in 1994, Robeez came to life when Canadian Sandra Wilson, the first Canadian mompreneur success story, handcrafted leather soled shoes for her son Robert. Since then, Robeez shoes and apparel have grown to a globally distributed company and a staple in the homes and lives of growing families.
"The Robeez team is thrilled to announce we will be joining forces with Kidcentral as our main distribution partner within the Canadian market" says Director of Specialty Sales, Dara Scalora. "Working with this outstanding team brings the Robeez relationship full circle as Tammy is responsible for the original success and growth of the brand many years ago. We are confident with Kidcentral's great relationships and reputation in market we will be able to continue to service our buying community and grow our beloved brand alongside them! We look forward to a wonderful union and exciting opportunities to come from Robeez and Kidcentral!"
For more information, contact:
Kidcentral Supply
Phone: (416) 530-7529
www.kidcentral.ca